Tech firms might be rebounding from the dot-com bust, but enrollment in college computer related programs keeps dropping. San Jose State University in Silicon Valley enrolled 417 full-time computer science undergraduates for the fall semester, down from 525 last year. The University of Texas at Austin expects about 1,275, down from 1,465 a year ago. The University of Notre Dame should have 50 ? better than last year, but down from 60 at the peak. Ohio State University is down 30%. Blame the bleak tech job market.
In the past, a computer degree meant "instant riches, or at least a well-paying, secure job," says San Jose computer science chair David Hayes. "Now, the perception is jobs are going overseas, and people are being laid off."
That's not necessarily a bad thing, says Peter Lee, an associate dean at Carnegie Mellon University. His elite undergraduate program received 2,000 applicants this year, compared with 3,200 at the height of the boom. But the students are often of higher quality, motivated more by love of technology than dreams of stock options, he says. Many educators worry there won't be enough workers when the industry rebounds, crimping growth, but I imagine we'll find that quantity doesn't always mean quality. Perhaps it is better to have less computer science engineers and more quality computer science engineers.

I checked out the RSS feed for this site at the Feed Validator (http://feedvalidator.org/) and it checks out fine. Click on the image below to check it out:

[link=http://www.feedvalidator.org/check.cgi?url=http://java.blogeasy.com/index.xml]

[/link]

Although according the JavaBlogs (http://javablogs.org/) parser, the feed is not valid and not parsed correctly:

Message: ParseException: Error on line 10: Use "<" for "<" in attribute values.
Date: 07/27/2004
Exception:
de.nava.informa.core.ParseException: ParseException: Error on line 10: Use "<" for "<" in attribute values.
at de.nava.informa.parsers.RSSParser.parse(RSSParser.java:116)
at de.nava.informa.parsers.RSSParser.parse(RSSParser.java:87)
at com.atlassian.javablogs.blog.Blog.buildChannel(Blog.java:164)
at com.atlassian.javablogs.blog.Blog.update(Blog.java:142)
at com.atlassian.javablogs.updater.DefaultUpdater.update(DefaultUpdater.java:23)
at sun.reflect.GeneratedMethodAccessor95.invoke(Unknown Source)
...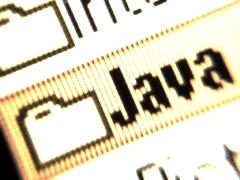 Testing out some of the new features they put in here at BlogEasy. Takes a little getting used to, but I'm starting to get the hang of it. I added a new banner to the top of the page and it looks pretty good. It gives the site a little more appeal.
The Java Developer's Almanac (http://javaalmanac.com) has some great Java code examples for basic tasks that you may need such as converting between RGB and HSB colors. Check out all the examples.

http://javaalmanac.com/egs/java.awt/color_Hsb.html?l=new
Sometimes I use the link to Sun Microsystems site for some good Java tips as well.

http://java.sun.com/developer/TechTips/
Here's a good link for some tips on how to do a few things in Java with code included.

http://www.javaworld.com/columns/jw-tips-index.shtml
Time to revive this free blog. I've been pretty busy lately and haven't had too much time to write here. I also didn't make it to JavaOne this year, but I heard that I didn't miss much. I've got the past four years of JavaOne experiences to hold me over. That should be enough.
I came across this good article on setting up a basic JDBC code routine. It covers the basics and provides a solid implementation for making sure all those statements and connections get closed. I found this very useful when working with connection pools.

Check it out at Writing Effective Java Code.
A recent cartoon from Dilbert illustrates a chain of outsourcing that has gone too far. Is this hypothetical or are there real situations where this happens? I personally work on a project that now has three levels of outsourcing that I'm aware of at this point. At least it doesn't come back to us yet.

Click Here for Full Image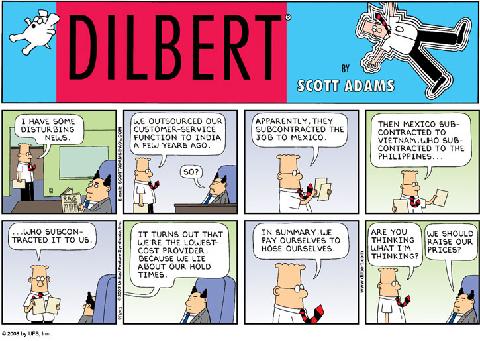 JavaWorld published an interesting Java Tip at http://www.javaworld.com/javaworld/javatips/jw-javatip136.html regarding protection of your web application control flow. It offers some interesting tips on using a synchronizer token pattern to effectively reduce duplicate submissions. Although it tends to be geared towards Struts applications, the concepts can apply to any valid MVC type flow control.